…Well, maybe why isn't as important as how.  Thanks to the Land Trust of Santa Cruz County, the pumas of the Santa Cruz Mountains are on their way to having a safe way to cross Highway 17!  Read more about it in their press release!
We've talked before about how habitat connectivity is a very important part of puma biology.   Pumas need to be able to around the landscape to find prey, mates, places to have their young, and safe places to be wild animals.  As we increase development, we decrease the amount of habitat available to them, and we often isolate remaining habitat patches.  Large, busy roads, like Highway 17, create barriers that are dangerous for pumas to cross.
Crossing structures, such as culverts and wildlife overpasses, reconnect fragmented habitat patches.  The Land Trust of Santa Cruz County used some of our data to locate land to purchase near Laurel Curve, a particularly dangerous stretch of road, with the hopes of restoring connectivity across the highway.  This is a very exciting new project that could help keep pumas from suffering the same fate as 16M, 39M, 18F, and many others.  With any luck, creating a safe way to cross Highway 17 will serve the dual purpose of keeping pumas safe from cars, and people safe from collisions with wildlife!
Since October 2013, when we caught 41M while 46M looked on, we have repeatedly seen the brothers together. However, until just now, there has been no sign of a mom. We wondered if they had perhaps been orphaned, but their mom finally appeared on a fresh deer kill when our team was out tracking 41M a few days ago. In the video below, you can see the mom jumping back and forth across the stream next to her kill. Eventually 41M joined her to feed as well.
Having both 41M and 46M collared before they disperse away from their mom's territory will allow us to get really valuable information on how pumas establish new territories in the Santa Cruz Mountains. We hope to learn about how dispersing animals interact with human disturbance and if they ever attempt to disperse out of the Santa Cruz Mountains east across the 101 or south toward Monterrey and Big Sur.
In early October, we told you about catching 41M and how his sibling climbed up on top of the cage and taunted him through the bars.  Last night we saw that 41M's brother didn't learn from 41M's experience…
In this video, we see 41M (with his shiny new collar) looking at the cage trap with some trepidation.

He remembered his last encounter with that pesky cage trap, and even though he wants that dead deer, he wasn't willing to go in.
His brother, on the other hand, had a fine time when 41M was caught, and ended up going into the trap last night.  Here we see our newest collared cat, 46M, laying in the trap, eating all the deer, while 41M looks on with envy.

46M weighed 92lbs and appears to be traveling with only 41M.  They could still be with their mom, but we haven't seen her yet.  Whether or not she is around, they are near dispersal age, and they will soon leave the area where they grew up to find new territory they can occupy.   This is a tricky time for them as they will have to cross roads, territories held by other, very unwelcoming males, and enter into unfamiliar areas.  This is the first brother pair we've been able to monitor, so we're very excited to see how long they travel together and where they will each end up!
Although we like to get as much information as possible about pumas in the Santa Cruz Mountains as possible, there are cases where we choose not to collar animals for their safety. Last night, when we were attempting to catch an uncollared female, one of her three young kittens wandered into our cage trap instead. The kitten was too small for one of our adult collars, and too big for our tiny cub collars, so we let it go.
Even though we didn't collar the kitten, we got some cool footage from the camera set to record the trap that provides insight into the family lives of pumas. Watch below!
This week's blog was co-written by Sean McCain  (one of our field techs)
Ever wonder how animals communicate using scent?
Enter the flehmen response. The flehmen response is a communication behavior utilized by many mammals to identify pheromones left by other animals.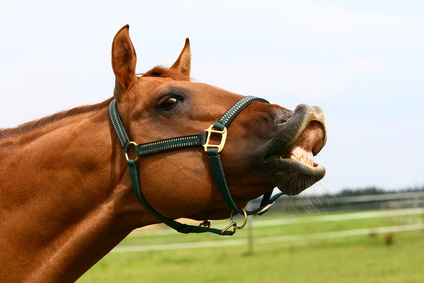 A horse displaying a flehmen response

Male pumas may use the flehmen response at a scrape site where a female in heat has left her scent or to detect the presence of other males.  Females actually use the flehmen response more and use this behavior to identify other pumas and for mate selection.
Recently, we released a
video
of a mother puma walking around with her kittens at a scrape site. What followed that video was an uncollared female leaving her scent (spraying) which was followed by 36M leaving his scent and exhibiting the flehmen response to identify her (see video).

While it looks like he's sneezing in the video, he's actually exposing an olfactory sensory organ much called the vomeronsasal cavity. This organ specializes in pheromone detection (see pics) and is located right above an animal's teeth. This behavior can also be seen in most ungulates, felids (including house cats), and even pandas!