This week, we published a paper on puma behavioral responses to human development and how they relate to kill rates in the Santa Cruz Mountains. We found that females spend less time at their deer kills when they are close to people, and therefore kill deer more often to compensate.
For more, listen to BBC's Science in Action radio show here: http://www.bbc.co.uk/programmes/p02gyp6x
Have you ever seen an animal scat on the ground and wondered who it belonged to? Perhaps you pictured a bobcat slinking down the trail just before you, marking its territory before continuing its travels? Or a pair of coyotes cruising around looking for their next meal? I certainly have! Leaving a scat is not just a simple biological necessity for animals. Many species communicate territoriality or reproductive status with their scats. Collecting animal scats can provide a unique, non-invasive method to look at diet, space-use, and stress, among many other things. This is because scats carry prey remains, DNA, and hormones that can be analyzed in a laboratory setting.
In 2014, I (Justine Smith, a PhD candidate with the Santa Cruz Puma Project) started a citizen science project with the help of puma project alumni Dr. Yiwei Wang to collect mesopredator scat samples. Mesopredators are mid-sized predators, such as bobcats, coyotes, and gray foxes. We were interested in seeing how their diets change in response to human disturbances, but were unsure how we were going to collect enough scats to answer our questions. We decided to reach out to you guys, our community of fellow naturalists that are interested in learning about our local environment and doing research to contribute to its conservation. We started the group Conservation Scats, and have been having a great time hiking trails with our dedicated and enthusiastic volunteers ever since. Since we began, our team has collected over 200 scats! Our project is about to come to a close, so if you are interested in learning about animal tracking and assisting in local research, please contact me through our webpage, conservationscats.com. Our last field days are tentatively scheduled for February 21 and 28. Please drop by the website to learn more about our project and check out our local scat identification guide!
Project post doc, Max Allen, and I recently went out in the field with Tanya Diamond and Ahiga Snyder from Pathways for Wildlife to see where the Santa Cruz County Land Trust will build the new wildlife crossing culvert under Highway 17.
We started off our hike with Ahiga telling us the story of a male puma he had been tracking across the area.  He set up camera traps across the newly-acquired property in spots he thought a puma might use, and was very excited to tell us about the series of photos documenting a male's trek from Soquel Creek up to Highway 17.
Tanya and Ahiga bounded down the trail from camera to camera, clearly thrilled about the presence of this cat in the recently protected land, as well as their ability to track his movements.  They checked each camera and clicked though the photos, "skunk… wind… wind… squirrel…" looking for more evidence of the puma.
As each camera turned up empty-handed, their excitement waned.  Ahiga explained to us that he was still optimistic, but he was concerned about the cat.  The last time he saw the puma had been right before an uncollared male was stuck and killed on the 17 not far from where the last photo was taken.
With each passing camera the chances of catching a glimpse of the cat decreased, and it started to sink in that Ahiga had likely documented that male's final trek to Highway 17 where he had been killed.
Sadly, this male was one of 13 pumas killed on Highway 17 in the past seven years.  However, the new culvert the Santa Cruz County Land Trust is installing could make him the last.  Check out this short video about it.
A UCSC Cruz Alert was sent out on November 28 warning of two mountain lions spotted near the base of the UCSC campus. Mountain lions do occasionally move through campus property, due to the many preserved acres of land in Upper Campus and Pogonip, and the adjacency of large protected areas including Wilder Ranch and Henry Cowell State Parks. The actual presence of mountain lions on the UCSC campus is not particularly out of the ordinary; mountain lions regularly have to move amongst developed areas in the Santa Cruz Mountains due to the high human footprint that fragments our wild habitats.
Despite the presence of mountain lions near the UCSC campus, the probability of a negative encounter with a mountain lion is low. Conflicts with mountain lions are almost impossibly rare in California. Although millions of people live and recreate in mountain lion habitat every day in California, there have only been three physical encounters in the state in the last ten years, all of which were non-lethal. (For more information on mountain lion attacks in California, visit the California Department of Fish and Wildlife webpage at: http://www.dfg.ca.gov/wildlife/lion/attacks.html)
Although negative encounters with mountain lions are unlikely, it is never a bad decision to be informed and use safe practices when living near wild places. Always be aware of your surroundings, and try to walk with a buddy at night near forested areas. If you do come across a puma, remember the following steps: 1) do not run; 2) raise your hands over your head; 3) make noise. In nearly all cases, the mountain lion will be deterred by these actions and walk or run away. In the rare case of an attack, fight back. Please read more about living with pumas at http://santacruzpumas.org/mountain-lion-faq/.
Remember 46M, the puma that wandered into downtown Mountain View a few months ago?  Well he had quite a journey for the last 5 months until he was hit by a car on Hwy 280 a few days ago.  After capturing him in downtown Mt. View and releasing him back in the mountains from where he came, he resumed his northward trek until he hit Pacifica and Milagra ridge and couldn't head north anymore without hitting a sea of development.  Then he turned around and headed south hugging highway 280 to his east until he found what appears to be an underpass that led him into a patch of fertile ground on either side of Crystal Springs road just to the east of 280.  He stayed in this roughly 1 square km area for at least 2 weeks feeding on what appears to be an abundant deer population there.  He then headed north again to Pacifica, before backtracking south again to the hills east of 280 near San Carlos.  He stayed there for a number of days making a living killing deer in the small patches of open space that remain in this highly developed area.  Finally he tried to cross 280 again but was not so fortunate this time around.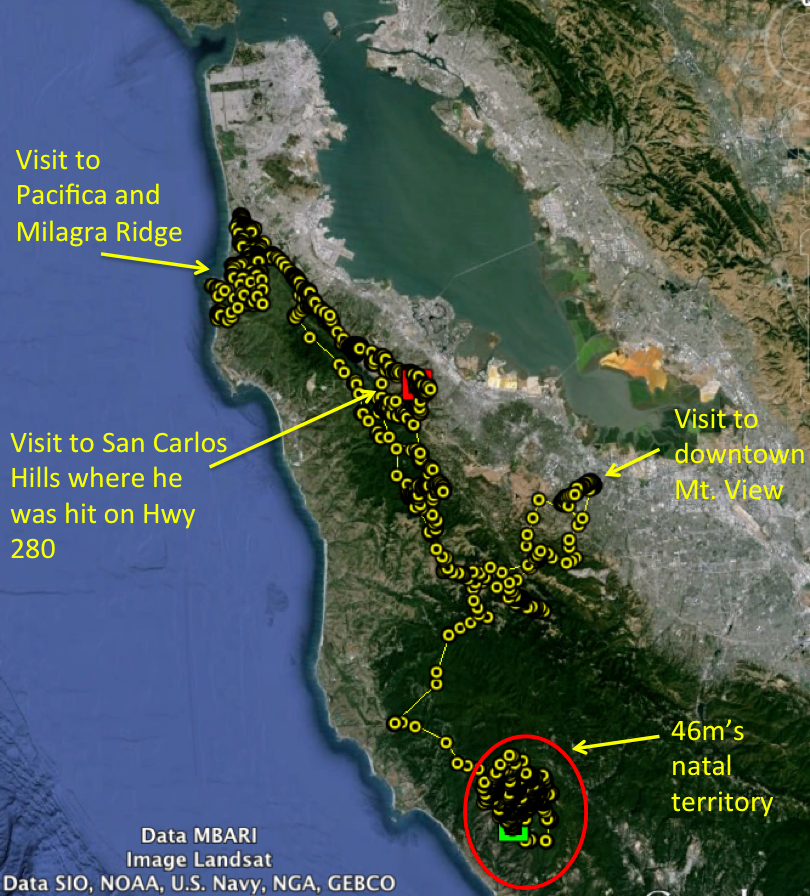 A number of observations strike me in looking at his track.
1 – This is completely normal behavior for a dispersing (i.e. young animals that are looking for a new home) mountain lion.  Notice that he is often on the edge of open space.  This is a pattern we have observed before with other dispersing animals.  Most likely they are either avoiding more dominant animals that currently occupy those territories, and/or they are looking for a way to cross a barrier (such as 280).
2 – Mountain lions are very shy.  This guy was a stone's throw away from people's houses for much of the last 5 months, and yet we are not aware of any conflicts between him and people or even of any reported sightings of him.  In fact, all the areas that he explored probably have regular visits by adult mountain lions that have territories covering those areas.
3 – The way he died is avoidable.  Each year millions of animals ranging in size from salamanders to mountain lions are killed on roadways.  A lot of these deaths occur because there are no viable options for animals to cross roads that don't involve crossing asphalt.  In many places, roads are the leading cause of death and population decline of our wild animals.  But we could install wildlife crossing structures, such as underpasses or overpasses, when designing and retrofitting roads.  Denmark, a country not much bigger than the Bay Area, has over 200 such wildlife crossing structures.  Why not here?  I think it is largely that people simply aren't aware that this is such a huge problem.  So spread the word!