National Geographic published a fantastic feature on urban pumas in their December issue.  The article includes an interactive map of pumas around Los Angeles,  as well as a stunning photo of an adult male puma walking through the hills of Griffith Park – a spot that many people visit every day.
With over 38 million people living in California (the majority of whom live in puma habitat), the photos from this article are a great reminder of how little conflict there is between humans and pumas.  All too often, we only hear about large carnivores when something has gone wrong – a young cat is deemed a safety threat and is shot after it wanders into an urban area, the extremely rare event in which a person is attacked, etc.  We don't hear about the times when we walk past a puma sleeping under a tree and never even know it was there.  It's refreshing to see an article that shows the public what we see as researchers – beautiful animals that are an important part of our shared environment.
We have had a great time over the last two weeks speaking with the future scientists and conservationists of Santa Cruz County. About one hundred students from the Young Scientists Club at Westlake Elementary joined us to chat about puma biology and how to live with pumas. Nine inspiring students from the Wetland Stewards group in Watsonville came out to learn animal tracking techniques and discuss conservation goals and challenges for wide-ranging carnivores. Thanks to both groups for inviting us to share a bit about Santa Cruz pumas with you – we look forward to keeping up on all the great work you are doing!
The Santa Cruz Puma Project was recently  granted permission to start tracking puma kittens by fitting them with GPS collars when they are about four weeks old. We have received some questions from the public about why we want to follow the kittens from early on in their lives, and would love to share why we are  excited about this new research opportunity.
1.Collaring kittens allows us to get good survival data on kittens for the first time in our project, which will tell us about puma population growth in the Santa Cruz Mountains. Finding out more about kitten survival rates and causes of death can inform us about the stressors affecting pumas and the risks they encounter.
2. Pumas in the Santa Cruz Mountains have to meet all their survival needs while navigating around areas where a lot of people live and the dangers are many. We have found that pumas are often most sensitive to people when they are engaging in reproductive activities, like denning. By collaring kittens, we can see if females have more successful litters when they den further from development. We can also investigate if the causes of kitten death change when they are raised near development.
3. Male pumas sometimes kill kittens that are not their own so they can mate with the kittens' mother. By tracking kitten survival, we can learn how important this behavior is to structuring the population.
4. We have little information about individual pumas over the course of their entire lives. When we collar kittens at a young age, we can track their dispersal from their mother, who they mate with, and where they establish territories, all in the light of what we know about their early lives. This can give us a much clearer picture of how pumas interact with each other and how they move around the landscape.
Lion 23F gave birth to a litter of kittens about 4 weeks ago near Forest of Nisene Marks State Park.  Our team visited her current nursery site today and found 2 feisty 5 ½ pound kittens, known to our project now as 44M and 45M.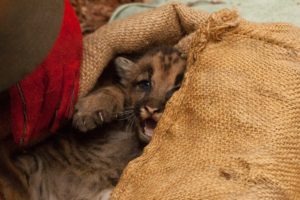 We briefly handled them to fit them with expandable tracking collars and returned the 2 brothers to the base of the redwood tree where we found them huddled together.  The tracking collars will allow us to monitor their survival and then fit them with gps tracking collars before they leave their mother and strike out on their own so we can follow them to their adult home.  However, that won't happen for another 18 months or so.
Seems like a young puma from the North tried to get into the Santa Monica Mountains near LA. The Southern Californian freeways are even more difficult to cross than the ones in the Santa Cruz Mountains. Check out the article here. Also – there's a great article about how the photo below was taken here.