We hear that pumas are good climbers and jumpers, but we don't often get to see it.  This awesome series of photos shows 51M, a ~4 year old male we originally collared in November, turning around on a tree trunk, climbing down, and then leaping to the ground.  These photos were captured by volunteer houndsman, Troy Collinsworth.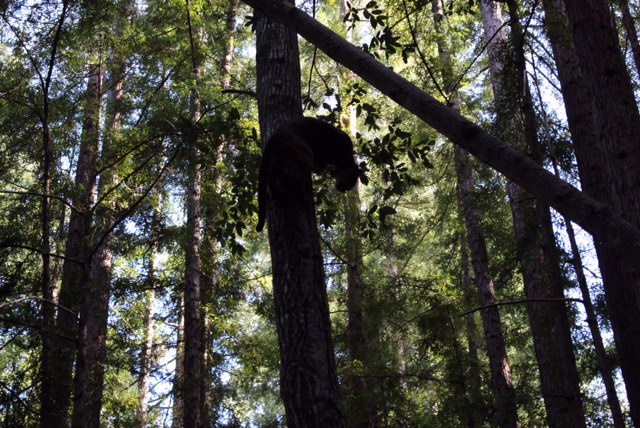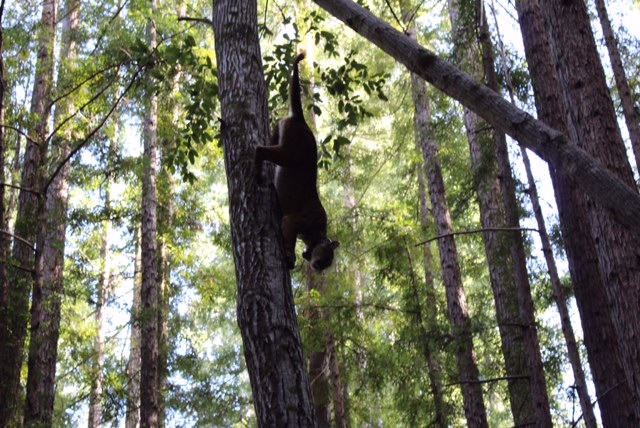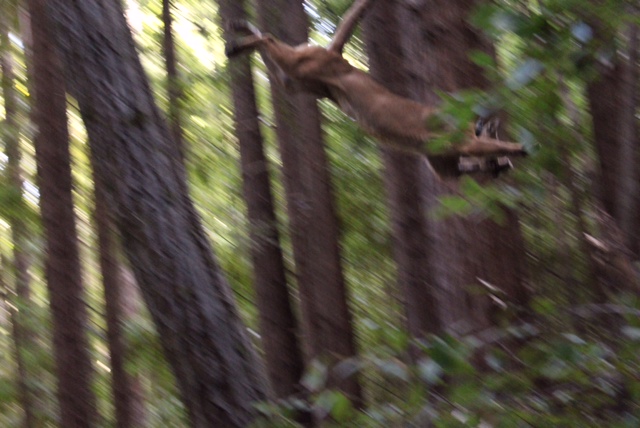 Pumas have muscular legs, specially adapted for jumping.  After this mighty bound, 51M landed on his feet, safely and unharmed!
I would like to say a huge huge thank you to everyone who helped make the depredation prevention workshop possible yesterday!  In particular, I would like to thank my co-organizer, Lewis Reed, Grey Hayes and the CCRC Education and Outreach Committee, the Santa Lucia Conservancy, and all the speakers and panelists!  Everyone put a lot of time and effort into making yesterday happen and it showed.  I would also like to thank all the participants for coming out to the Conservancy and sharing their perspectives and experiences.  I know some folks came a long distance to be there, and I really appreciate everyone taking the time to make this such a productive workshop!
During the meeting, we heard talks from ranchers, CDFW, APHIS, and the Puma Project, had a lively panel discussion, and went out in the field to see some of the on-site tools the Santa Lucia Conservancy is using to protect their livestock and wild carnivore neighbors.  We had a great turn out, wonderful discussions, and shared some very insightful information and perspectives.  I look forward to continuing the discussion in future meetings!
The Santa Cruz Puma Project has been ramping up our captures in the last month in order to better study the puma population of the Santa Cruz Mountains. Here's an introduction to 52F, 53F, 54M, and 55F!
52F is 5 years old and about 80 lbs. She has two kittens about 6 months old and lives at the very end of Empire Grade. Because 52F lives in mostly undeveloped land, she can teach us a lot about how pumas in our study area live naturally.
53F is 2 years old and just over 70 lbs. She lives primarily in Sierra Azul Open Space Preserve.
54M is 1.4 years old and about 90 lbs. He is likely a dispersing male, on his way to establishing his own territory. We captured him very close to Laurel Curve on Highway 17, the future site of a wildlife underpass being developed by the Land Trust of Santa Cruz County (read more here). 54M may provide us important information about this important corridor as he continues to explore and establish his territory.
55F is 3 years old and 90 lbs. Like 52F, she lives in a very undeveloped area between Big Basin and Castle Rock State Parks.
We look forward to learning more about Santa Cruz pumas as we follow the journey of these four pumas!
Increasingly, motion-triggered DSLR (or digital single-lens reflex) cameras equipped with a flash are being used to take better photos of animals in the wild. These photos can be very valuable for conservation because they show the public the private lives of important and endangered animals. However, some animals get spooked by the flash, which can change their behavior. If an animal is particularly sensitive to this disturbance, it can be ill-advised to try to photograph them using flash cameras.
We were curious about the response of pumas to motion-triggered DSLR cameras. Working with wildlife photographer Sebastian Kennerknecht (pumapix.com), we paired up his DSLR camera with one of our motion-triggered video trail cameras. We had great success! See an example of one of his photos below (more to come).
We collected the video camera to see how the pumas responded to the flash. It appeared that they were undisturbed by it, and continued to feed as if nothing had happened (see the video below – the flash goes off 11 seconds in). At least for pumas, this is a good sign that motion-triggered flash photography might not be disruptive enough to change their behavior. However, more work is needed to truly understand the ethics of using these sorts of cameras for a diversity of animals.
Here is 26M gettin' down in front of one of our cameras. We stitched together this series of photos showing him rolling around on the ground, just like your cat on the front walk.